Meet ROPOS
The world's most capable scientific submersible
Today's Remotely Operated Platform for Ocean Sciences, ROPOS, is the product of over 25 years of collaboration with world leading ocean scientists, engineers, and students who continue to push its limits through innovative and ambitious projects. From deep-sea hydrothermal vent exploration to the deployment and maintenance of ocean observatories, ROPOS has become known as the world's most capable scientific submersible for its capabilities, versatility, efficiency, and the skill and professionalism of its operators.
Reliability - ROPOS has set the standard for scientific and commercial ROV intervention

Our planning and preparation maximizes accomplishments with your funding

Stunning HD video with a wide field-of-view achieved with an abundant amount of light

Portable system capable of operations worldwide aboard ships of opportunity
Skilled, experienced operators with a can-do attitude and mature systems increase efficiency

Improved weather window for operations, other systems would normally have to recover

Project management, effective pre-deployment planning produces efficient offshore operations
Multi-disciplinary dive support on each dive, maximizing offshore productivity

State of the art technology, always providing the latest and finest quality equipment and tooling possible

KISS principle approach to challenges, using a more thought-out simplified process for innovative solutions
The Vehicle
Greater than the sum of its parts
From handling the most fragile of corals to accurately placing a 4000 lb instrument platform on the seafloor, ROPOS is the vehicle of choice. Designed to be a truly versatile scientific submersible, every dive with ROPOS maximizes offshore productivity. Continually evolving to provide its users with increasing capabilities, reliability and efficiency, the ROPOS vehicle uses carefully selected and integrated state of the art technologies to help make your expedition successful.
TECHNICAL OVERVIEW
ROPOS
The Remotely Operated Vehicle for Ocean Sciences (ROPOS) is a 40 hp Science/Work Class Remotely Operated Vehicle (ROV) capable of operating at depths of up to 5000 m
Size and Weight
3.05 m (length), 1.64 m (width) and 2.17 m (height), 3393 kg
Speed
2.5 knot (forward max), 1.0 knot (typical transect), 1.0 knot (lateral), and 1.5 knot (vertical)
Sea State
Sea State 6 (Using LARS heave compensation system)
Video
Two HD Cameras, Six pilot and tooling cameras, 36.3 megapixel digital still camera and over 3700 watts of lighting
Manipulators
2 x Schilling Robotics TITAN 4 Manipulators that have the dexterity and accuracy necessary to perform the fine movements needed for complex tasks.
Telemetry
Greensea Systems telemetry provides reliable vehicle control and cutting-edge auto-pilot functionalities to further increase the vehicle's efficiency.
Through Frame Lift
1815 kg with a 5:1 safety factor, tested to 3629 kg. Uses four point attachment for under-slung payload or skid interface
For a full technical description see the ROPOS Specifications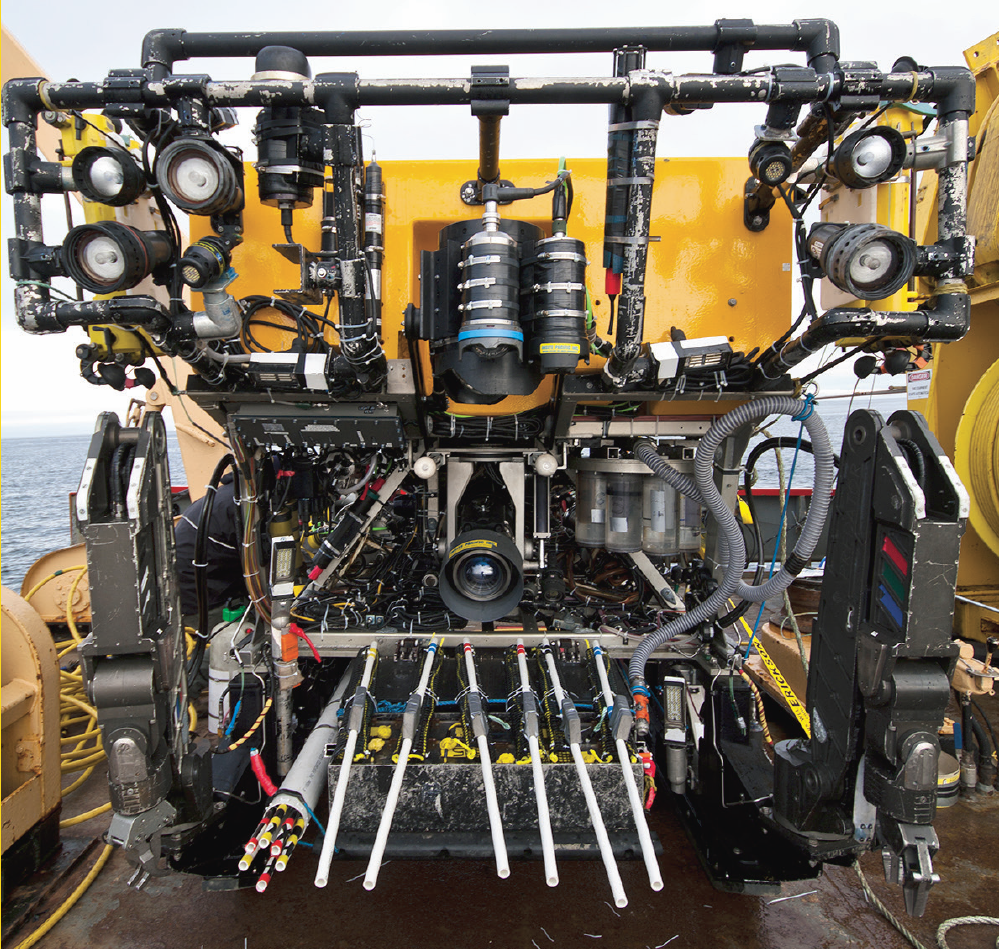 Front view of ROPOS ready for a multi-disciplinary science dive.
Configurations
A ROPOS for every ship
The ROPOS vehicle has three general configurations to best suit the operational goals and budget of our users. Each configuration is designed to allow for flexible deployment scenarios on a variety of vessel of opportunity. Since its first dive, the ROPOS system has been shipped throughout the world and mobilized on over 16 different vessels.
Control Lab
Several ways to work together
The ROPOS operations centre can be integrated on a ship either in a container, or in a lab space. The first approach is to load and install a pre-configured 20-foot container, which is a self-contained, climate-controlled operations centre on the deck of the ship. The second approach is for the operations centre to be set up in a lab space on the ship. This option requires additional time, as equipment needs to be moved into and set up in the allocated space. In both cases, in order to include a wider audience, there is also a remote lab option. The remote lab is a series of monitors and audio stations that can be set up at a separate location on the ship. The remote lab allows for viewing of all the principle ROV video feeds and supports bi-directional communication with the operations centre.
Manipulators
Handling the most complex tasks
When it comes to getting things done, from delicate sampling operations and difficult sub-sea connections to managing 300 lb instruments, ROPOS is equipped to handle it. Its two powerful and agile Schilling Robotics TITAN 4 7-function manipulators offer unparalleled controllability and responsiveness that allows our skilled operators to efficiently perform complex tasks in unstructured and challenging environments. In addition, both arms are fitted with wrist camera and lights to further increase their capabilities in challenging operational scenarios.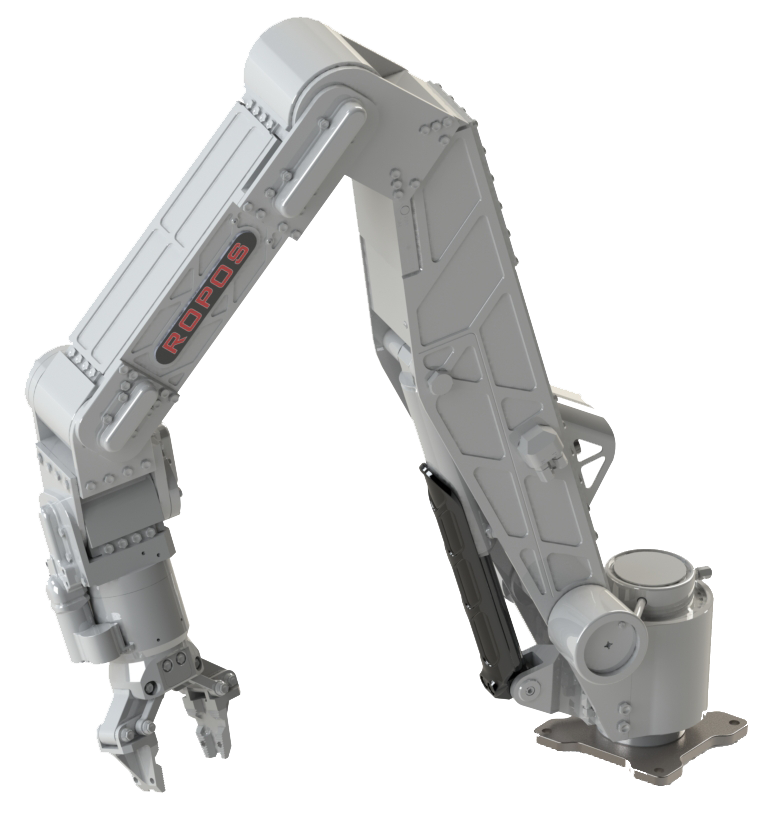 Imaging
Like the ocean, simply stunning
Equipped with state of the art HD cameras, a high-sensitivity full-frame 36.3 megapixel digital still camera and over 3700 watts of far-reaching lighting, ROPOS captures the stunning beauty of sub-sea environments in a wide-field of view that makes you feel as if you were there. Once at the surface, all video and images are geo-referenced and recorded in a digital format that can easily be used for anything from creating beautiful cruise highlights to detailed image analysis.

Tools and Sampling
A tool belt you can count on
ROPOS and its operators have built their reputation on the successful development, implementation and use of complex scientific and engineering tools for a wide range of seafloor tasks. From the brute strength of rock-cutting submarine chainsaws or jetting pumps to the most complex and delicate scientific apparatus, ROPOS has "done it all" and is always ready for a challenge. Find out how our custom sampling tools, such as the bio-box or suction sampler, can help you by visiting the Tools and Sampling section.

Data Management
A powerful tool to manage your data
A ROPOS expedition can involve 20 to 30 scientists, most of whom collect data, imagery, samples, and observations using an array of instruments and sampling devices. Efficiently managing and safely archiving massive amounts of data at sea is a challenge we take seriously.
Our Integrated Real-time Logging System (IRLS 2.0) is a powerful and intuitive annotation tool that brings together framegrabs, digital still pictures, and many other files with flexible organizational elements that create a dataset that is tailored to your needs; it helps you make the most of your time offshore and facilitates review and post-expedition analysis.

Navigation
Accuracy and repeatability
The ROPOS system is equipped with state of the art navigation sensors that are merged to deliver a best solution using our LOKI Kalman filter. With this geodetically accurate and repeatable sub sea positioning, ROPOS can safely and quickly complete challenging surveys and dives.
All of these sensors, systems and data are managed, shared and controlled using EIVA NaviPac Pro software suite. With these powerful tools, our navigators can handle any operational requirements, give you virtually any output, as well as insure that you, the bridge and the ROV pilots always have a real-time picture of the operations.

Telepresence
Collaborate with distant shores
With satellite technology, the number of dive participants is no longer limited by the size of the support vessel or researchers being able to go to sea for several weeks at a time. Shore-based researchers can now participate in the offshore work without leaving their laboratories. Particularly valuable when researchers are only involved with short duration sampling or surveying or when a quick expert opinion is required our satellite system provides live video and 2-way communication to laboratories ashore.

Support
Things happen, we come prepared
In an extreme environment that often pushes equipment to its limits, we come prepared. From preventive maintenance to the most daunting of repairs, the ROPOS system sails with a full complement of spares, specialized tools, and documentation. Along with knowledgeable and experienced operators, this ensures that when something happens we can get back to diving with no or minimal impact on the valuable time you have offshore. If deck space is scarce, everything is modular and can be moved in ship's labs and workshops.