FOR IMMEDIATE RELEASE
ROPOS ROV Awarded SS Beaver Medal
Victoria, Canada - December 1, 2014
The Sidney-based ROPOS Remotely Operated Vehicle (ROV) was recognized for its contributions to British Columbia's marine sector by the prestigious award of the SS Beaver Medal on November 26th. The medal, forged from the salvaged remains of the 19th century Hudson's Bay Company's SS Beaver, was awarded by the by Honourable Lieutenant Governor Judith Guichon.
The Canadian ROPOS (Remotely Operated Platform for Ocean Science) ROV, a scientific research deep-diving submersible, has been a key tool utilized by scientists, researchers, and environmental monitoring groups in almost every ocean around the world. The submersible's capabilities and contributions have brought it widespread recognition as one of the world's most capable and efficient scientific ROVs, and the SS Beaver Medal for Maritime Excellence recognizes in particular the vehicle's contributions to its home-waters and the marine sector in British Columbia.
The submersible has had the responsibility of executing challenging tasks such as the retrieval of the bridge systems from the 2006 sinking of the M/V Queen of the North, the installation of most of the instruments and extension cables for the NEPTUNE and VENUS offshore observatories, and site surveys for Environment Canada. In addition, the vehicle executes regular scientific missions involving high-definition video surveys, sampling, and equipment deployment/retrieval.
"It was privilege and honor to represent the ROPOS ROV receiving this very special award" said Keith Tamburri, Assistant General Manager of the Canadian Scientific Submersible Facility. "This award recognizes the ROPOS ROV for all the work it's performed over the years, but without a dedicated and professional team it's just another ROV. I accepted this award on behalf of all the present and past workers who over its 29 year history has made it into the best science ROV in the world."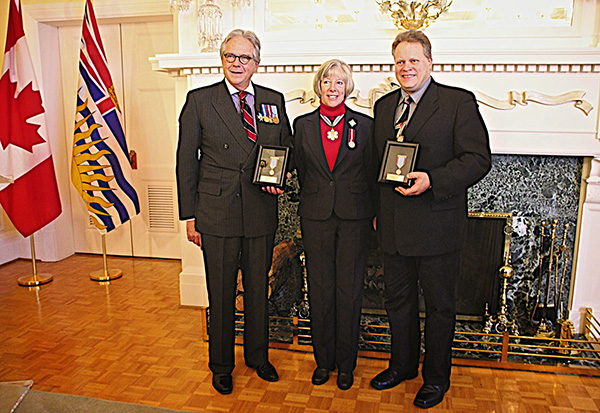 Keith Tamburri (right), Assistant General Manager of the Canadian Scientific Submersible Facility, accepts the SS Beaver Medal from Lt. Gov. Judith Guichon (middle), alongside Dr. Barry Gough (left).
Originally built in 1986, the submersible has conducted over 1,800 dives since 1995, in water depths up to 5,000 metres (16,400 feet). With the capability to operate from vessels in any location and spend an unlimited amount of time under water, the submersible has become instrumental in complex subsea research. The submersible has served thousands of scientists, researchers, and environmental monitoring groups and continues to find new ways to integrate cutting-edge technology into subsea operations.
The ROPOS ROV is operated by the Canadian Scientific Submersible Facility. More information can be found at www.ropos.com.
Contact:
Ashley Thomson
This email address is being protected from spambots. You need JavaScript enabled to view it.
Canadian Scientific Submersible Facility
110-9865 West Saanich Rd.
North Saanich, BC, V8L 5Y8
Ph: +1 250-655-5096

END
###